804 Naval Air Squadron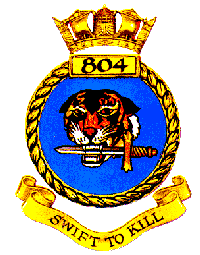 No 804 Squadron formed as a shore-based fighter squadron on the 30 November 1939, from a nucleus of 4 Sea Gladiators of 769 Squadron which had been detached to Hatston five days earlier to counter enemy air activity over Scapa. In April 1940 the squadron embarked in HMS Glorious to provide fighter patrols whilst the ship was ferrying the Gladiators of No 269 Squadron, R.A.F. to Norway. From the following month, various detachments embarked in HMS Furious until re-equipping with 12 Martlet 1's in October 1940. Some of these broke away the following month to form the basis of No 802 Squadron. The Martlets in turn gave way to a number of Fulmar 11's and Sea Hurricanes from February 1941. In May 1941 the squadron changed its role to provide aircraft to operate from catapult armed merchant ships (CAM ships) and on 3 August a FW 200 was shot down by a Sea Hurricane catapulted from HMS Malpin. By May 1942 this task had been taken over by the R.A.F.'s Merchant Ship Fighting Unit and No 804 squadron was then shore based for several months until embarking in HMS Argus for a Gibraltar convoy in July 1942. After a brief spell ashore at North Front it returned in HMS Furious, which was then engaged in ferrying aircraft to Malta.
In October 1942 the squadron joined HMS Dasher with 6 new Sea Hurricane 11C's to provide escort during the North African landings, the strength being later increased to 9 aircraft. The Sea Hurricanes were discarded to No 835 Squadron at Eglinton in June 1943 when the squadron regrouped, though it was not until two months later that 10 Hellcat 1's were received. In October 1943 804 joined No 7 Naval Fighter Wing, and in December embarked in HMS Emperor for a U.S.A. bound convoy. Activities during the next few months included escort for attacks on the German battleship Tirpitz and also operations against Norwegian coastal targets. Following action in the Western Approaches during May and June 1944.
The squadron reformed at Wingfield, Cape Town, on 1st September 1944 with 24 Hellcat 11's with which it embarked in HMS Ameer in January 1945 to provide cover during the Ramree Island landings. This was followed by spotting, fighter cover, bombing, and TacR missions over Malaya and Sumatra. In April the aircraft embarked in HMS Empress and HMS Shah for attacks on the Andaman Islands and the Burmese coast, then the squadron returned to HMS Ameer in June for bombing attacks on Sumatra airfields and also operations off Phuket Island. After the Japanese surrender, No 804 returned to the United Kingdom without its aircraft, disbanding on arrival on 18 November 1945.
On 1st October 1946 No 804 reformed with 12 Seafire XV's at Eglinton as part of the 14th Carrier Air Group. After work-up the squadron embarked in HMS Theseus in February 1947 for a Far Eastern cruise, during which New Zealand and Australia were both visited. 13 Seafire FR.47's were received in January 1948 and these embarked in HMS Ocean in August 1948 for service in the Mediterranean. 13 Sea Fury FB.11's arrived as replacement in July 1949 and these joined HMS Glory in December, remaining in the Mediterranean until sailing for Korean waters in March 1951 with an increased compliment of 21 aircraft. After withdrawing to Singapore in October for new aircraft, a spell was spent in Australia, then the ship returned north for further Korean action.
Sailing home in HMS Theseus in May 1952, periods were consequently spent in both that ship and HMS Indomitable before re-equipping at Lossiemouth in November 1953 with 12 Sea Hawk F.1's, these being replaced in December 1954 by FGA.4's. In May 1955 the squadron joined HMS Eagle for a Mediterranean cruise, followed in October by a Norwegian exercise. Then on 17th November 1955 the squadron disbanded on arrival at Devonport.
On 6th February 1956 No 804 reformed with 11 Sea Hawk FGA.6's with which it embarked in HMS Bulwark in June. After a short period in Home Waters the ship sailed for the Mediterranean, where its squadrons participated in the Suez operations in November, attacks being made on Egyptian airfields and support being provided for ground troops. The aircraft were then flown back to the United Kingdom, where they joined HMS Ark Royal in February 1957. Transferring to HMS Albion in July 1958 the ship sailed to the Far East three months later. Australia was visited in February 1959. In May the ship sailed for home, and No 804 Squadron disbanded at Brawdy on 30 September 1959.
When the squadron was reformed at Lossiemouth on 1st March 1960, it was equipped with 6 Scimitar F.1's with which it embarked in HMS Hermes in July. The winter of 1960/61 was spent in the Far East, then the ship returned home and on 15th September 1961 No 804 disbanded at Lossiemouth.
COMMANDING OFFICERS
Capt. R.T. Partridge. RM. 30 Nov 1939
L/C. J.C. Cockburn. RN. 11 Dec 1939
L/C. B.H.M. Kendall. RN. 18 Nov 1940
L/C. P.H. Havers. RN. 05 Mar 1941
Capt. A.E. Marsh. RM. 09 Feb 1942
L/C. (A) A.J. Sewell. DSC. RNVR. 18 Oct 1942
Lt. O.R. Oaks. R.M. (temp) 13 Jul 1943
L/C (A) J.W. Hedges. RNVR. 29 Jul 1943
L/C (A) S.G. Orr. DSC. RNVR. 10 Aug 1943
Squadron disbanded 18 Jun 1944
L/C (A) G.B.C. Sangster. RNVR. 01 Sep 1944
L/C (A) D.B. Law. RNVR. 20 May 1945
Squadron disbanded 18 Nov 1945
L/C (A) R.F. Bryant. RN. 01 Oct 1946
L/C (A) S.F. Shotton. DSC. RN. 11 Jun 1947
L/C (A) C.F. Hargreaves. RN. 06 Feb 1949
L.C. J.S. Bailey. OBE. RN. 01 Dec 1950
L/C J.R. Routley. RN. Jul 1952
L/C.E.M. Brown. OBE.DSC.AFC.RN. 28 Nov1953
L/C. J.O. Rowbottom. RN. 14 Jul 1954
L/C. D.R.O. Price. DFC. RN. 13 Sep 1954
Squadron disbanded. 17 Nov 1955
L/C. Rvon T.B. Kettle. RN. 06 Feb 1956
L/C. G.B. Newby. AFC. RN. 05 Apr 1957
L/C. A.G.H. Perkins. RN. 05 May 1958
Squadron disbanded. 30 Sep 1959
L/C. T.V.G.Binney. RN. 01 Mar 1960
Squadron disbanded. 15 Sep 1961