THE GREAT BARRIER LEAP
By Bill Henley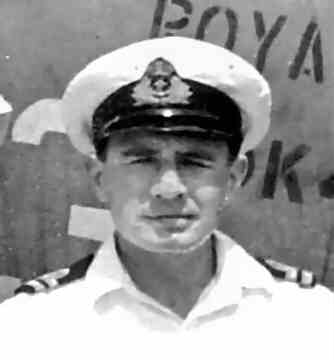 One of the memorable events that occurred during 812 Squadron's time on board HMS Theseus was the barrier leap that took place on 6th August 1947. Here is an account of that incident by one who was closely involved, but who saw very little of what actually occurred.
As number three in a division of four Fireflies, I was second to land on. The first was the Squadron Commander. Lt Cdr Wynne-Roberts. After landing, his aircraft was parked right forward on the Port side of the deck. Having landed, I was then directed forward, and when I crossed the crash barriers, the yellow coated Director who was standing on the forward lift - and of course facing aft - signalled that I should turn about 45 degrees to Port. I completed the turn and was watching for further signals when I saw a look of horror come over his face and his jaw hit his chest, it really did. Then the last I saw of him was a streak of yellow as he dashed for the Starboard side of the deck. He would have beaten Linford Christie.
Almost immediately there was a thump and my aircraft was swung more to Port and began trickling towards the edge of the deck. I put on the brakes and glanced forward in time to see that a Firefly had gone full tilt into the CO's aircraft, and as I watched they both toppled - quite slowly it seemed - over the bow.
It then occurred to me that the engine of my aircraft was making an unusual noise, so I stopped it and saw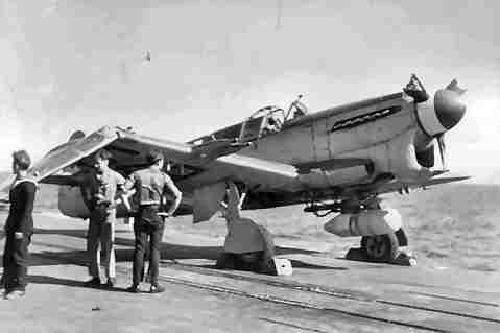 that the propeller blades had been cropped to about 18" in length. Next I noticed a large gash in the starboard wing. Finally - and this did cause me some concern - I saw that the fitting that housed the rear-view mirror had been bent forward, and all the glass had disappeared. This meant that something had passed over the cockpit just a few inches above my head.
At that moment Lt Riggins, the Observer who had been flying with me that day, closely followed by the Flight Deck Officer, appeared on the Port side of the cockpit asking anxiously if I was alright. I was able to assure them that I was. I then got out of the aircraft and reported to 'Flyco'. Cdr (Air) Commander Everett. He looked me up and down and said "We didn't expect you to come out of that alive" Perhaps it was just as well I didn't see what had happened.
The Admiral then cancelled all further flying until a period ashore in New Zealand. For me, this was not to be, as two days before Theseus and Glory were due to leave Brisbane, a signal arrived from the Admiralty ordering me to move to Glory. Thus ending my brief stay in 812 Squadron. I subsequently made a further 200 or so deck-landings, not without the occasional incident, but none quite as 'hairy' as my last one in 812.
Finally, the pilot of the leap-frogging aircraft Jimmy James, had his leg badly bust up and spent several months in a Brisbane hospital. About the middle of 1948 he returned to UK in a R.A.N troopship. By this time I was back in OZ on loan to the R.A.N and serving near Melbourne. When his ship called in there, Jimmy contacted me and we got together. I can still see him with his leg in plaster, stomping round the dance floor of a Melbourne night club.