In Memory of
Lieutenant (A) KENNETH ALFRED SELLERS

H.M.S. Theseus, Royal Navy
who died age 24
on 20 July 1947
Son of Alfred and Dorothy Sellers, of Withington, Manchester.


Remembered with honour
LEE-ON-SOLENT MEMORIAL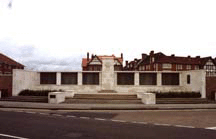 THESE OFFICERS AND MEN OF THE FLEET AIR ARM DIED IN THE SERVICE OF THEIR COUNTRY AND HAVE NO GRAVE BUT THE SEA.
Lt Ken Sellers was the Senior Observer of 812 Squadron (Fireflies) and Observer to Lt Cdr N.M. Hearle. Ken was tragically killed in the same accident as his pilot. (See Lt Cdr Hearle for further details of the accident).